JUNETEENTH CELEBRATION, PART 1, OLD-TIME CAMPMEETING AND BAPTISM AT BIG SPRING PARK
Re-enactment focusing on the role of faith and spirituality in the African American community, at the original baptismal site of St. Bartley's Primitive Baptist Church, the oldest black congregation in Alabama. Two processionals will begin simultaneously at 10:00 a.m.: one from the St. Bartley historical marker on Williams Avenue at Church Street, and one from St. John AME Church on Monroe and Church Streets, converging at Big Spring Park. Dress in garb from the 1900s. Enjoy church choral music and sample church picnic food.
Date & Time: June 15 from 10 a.m. - 2 p.m.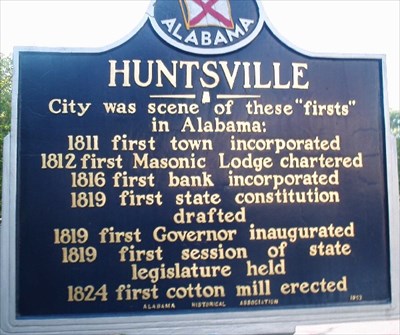 CHURCH STREET HISTORICAL MARKER
Unveiling of a historical marker commemorating the site of the African American business district. Located at the corner of Church St. and Holmes Ave. next to the WHNT News 19 building.
Date & Time: June 16 at 2:00 p.m. at the corner of Church Street and Holmes Avenue.
CHURCH STREET FESTIVAL OF VOICES
Celebrating the historic corridor of the African American business district. Actors in period costume and life-sized pictures share historical stories. Food trucks offer cuisine from restaurants operating during that period.
Date & Time: June 16 from 3 - 6 p.m. at the Huntsville Depot, 320 Church St. NW
Rain location: The Depot Roundhouse.
GLENWOOD CEMETERY PROJECT
Honoring the memory of Huntsville's formerly enslaved people and their descendants by identifying their names and burial locations, beautifying their resting place, and preserving their stories.
The Wall of
Remembrance
Unveiling of the only memorial in Alabama to honor slaves and former slaves for their contributions to Huntsville-Madison County. Location to be announced. Proposed date: August, 2019. Read More